What is going to happen on 14th of February?
It's a Valentine's day! Everyone reflects their sweet affection to their loved one by giving gifts, flower and chocolate on this day. This day is kind of worldwide event and Japan is not an exception for using this sanctuary day for commercializing sweets. They also celebrate Valentine's day however nothing like others. It is women who give chocolate!
 So, most importantly, do they sell chess motif chocolate? Believe me or not, they do sell beautiful, melting sweet chess
pieces!
Sited by RIHGA ROYAL HOTEL online shopping website:https://www.melissa-ec.jp/products/detail.php?product_id=1827
RIHGA ROYAL HOTEL, one of a luxurious hotel in Japan, sell this magnificent chess pieces chocolate box every year. All chess pieces are in the box that imitates book. This must make every chess fans happy.
 Don't they have Shogi chocolate? Of course. Japan don't betray our expectation. Since last year, they produce actual size of Shogi pieces chocolate, called Shogi de Chocolat.
 I bought one last year and it actually tastes really good. The website also wrote they not only concentrate
on disighn but also a quality of taste as well.
 You wana make something special and original chocolate for Valentine's day? Oh and you even want baking a cake?? For those passionate ladies, these will help you.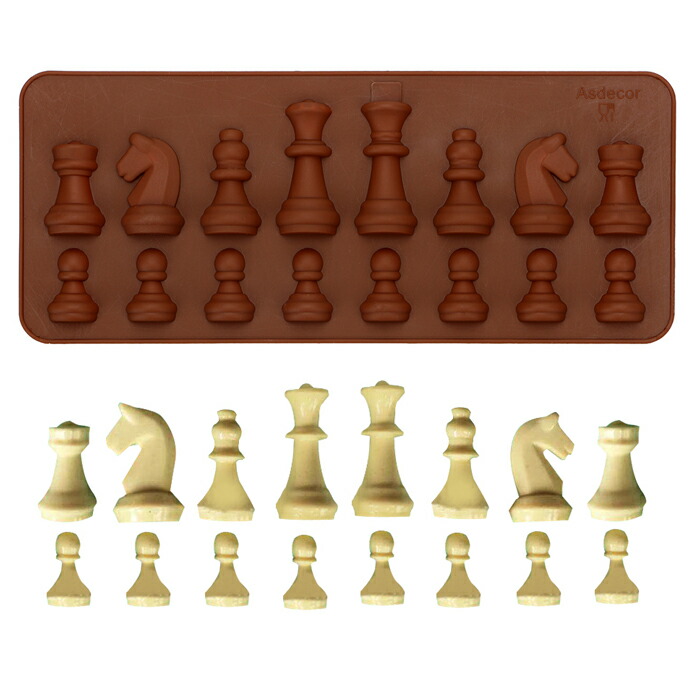 Sited from:https://item.rakuten.co.jp/tubakiyacrafts/sweets_29/?scid=af_pc_etc&sc2id=af_113_0_10001868
This layout will help you creating cute toppings for your cake! Even creating your own favorite flavor chocolate pieces is possible! Ladies, Are you ready???